BIS Am Can. Ch. Captiva Wind Song at Arcata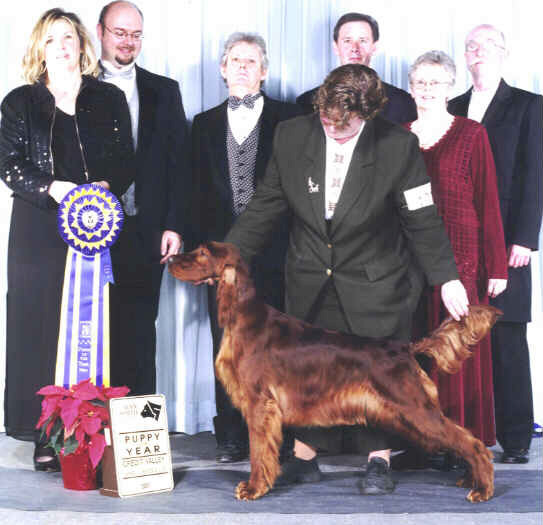 Melody pictured winning Puppy of the Year in 2001 with all 6 judges!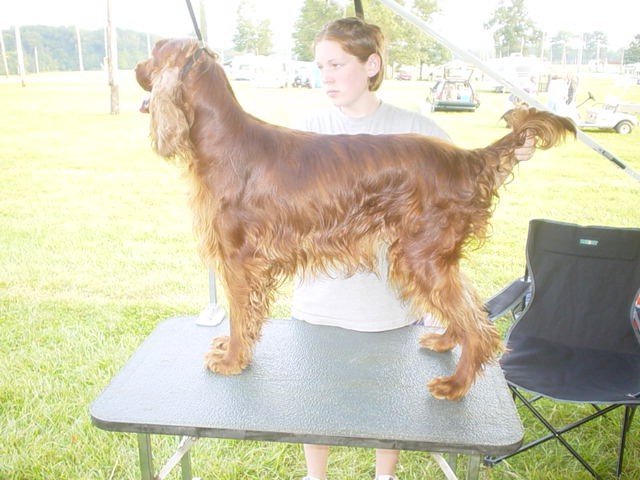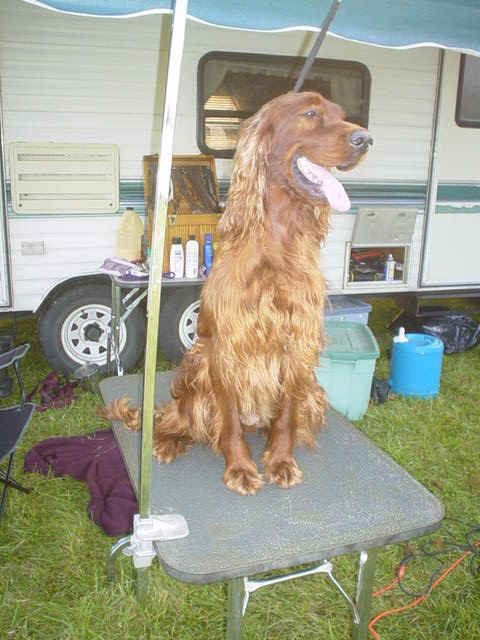 These are some of the photos of Melody. I finally got her back
in Aug 03.She had massive ear infections, broken canine, toenail ripped
out.  She had been shaved to the skin on her pants and under her chest,
holes ever where from where mats had been cut out.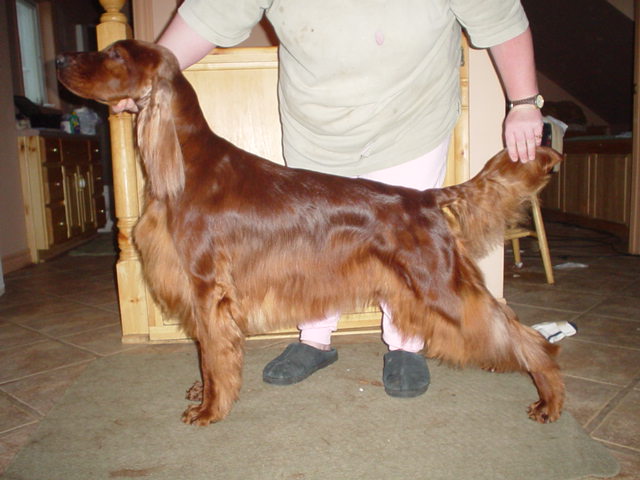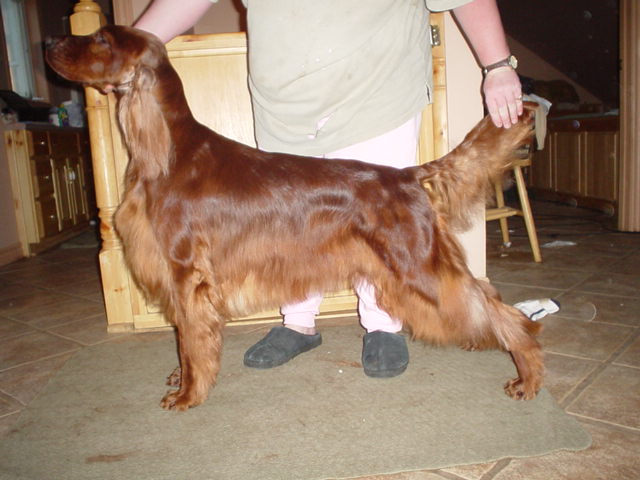 These photos are 4 months later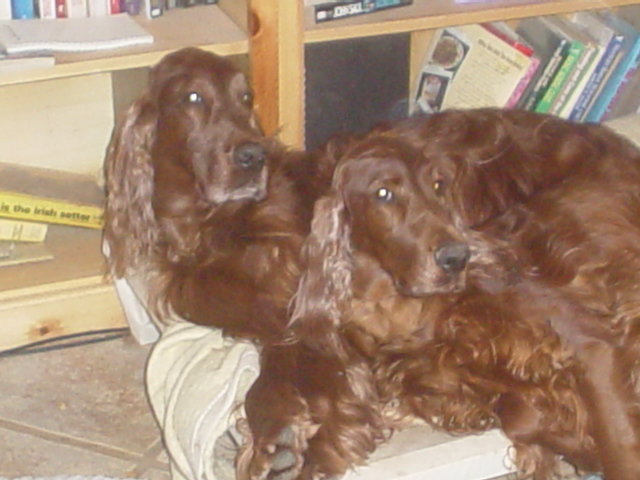 Rider and Donatella, Melody's sire and dam, maybe this is
where her head comes from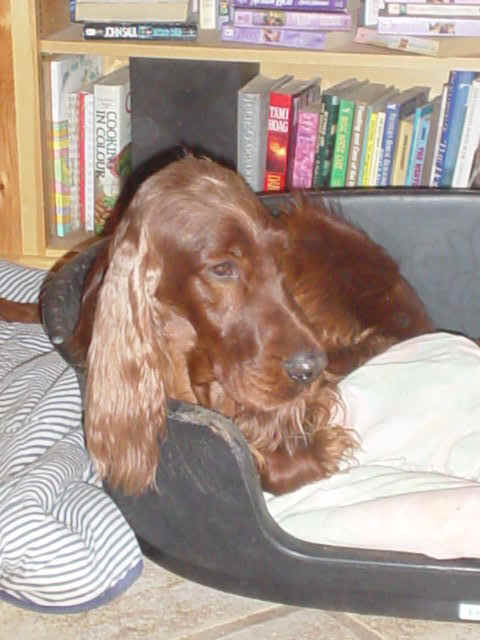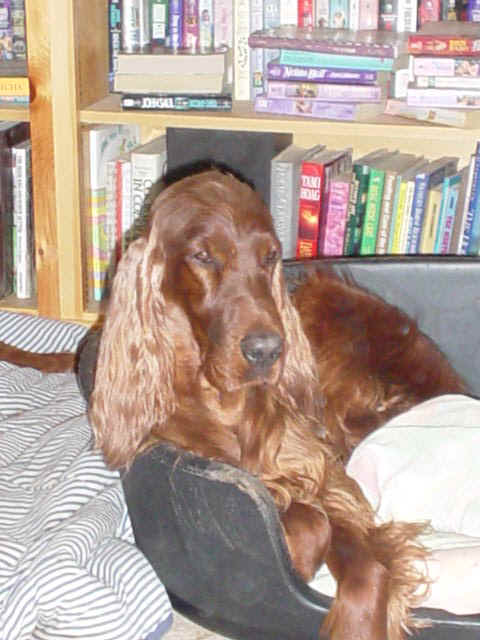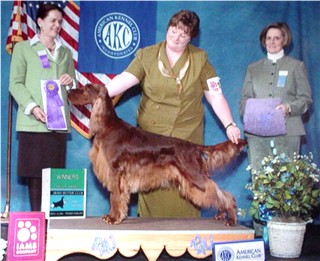 pictured going WB for a 5 point major! 5 months after her
return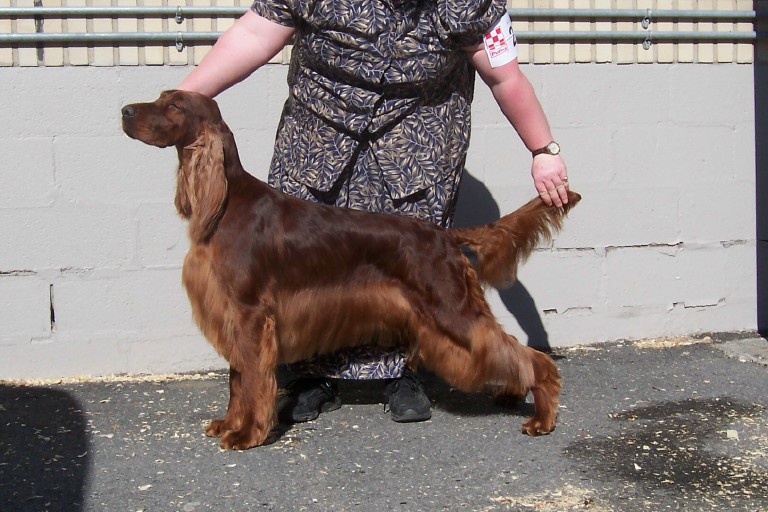 Mary Burr took this photo Syracuse weekend after Melody won
back to back BW at ISCWNY and their supported entry March 2004/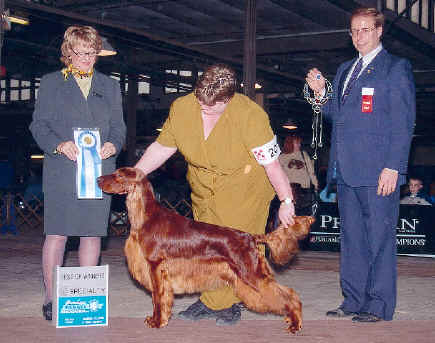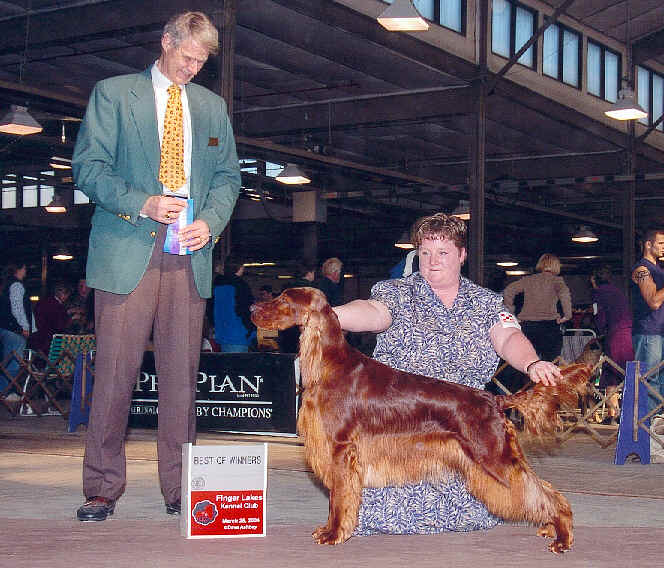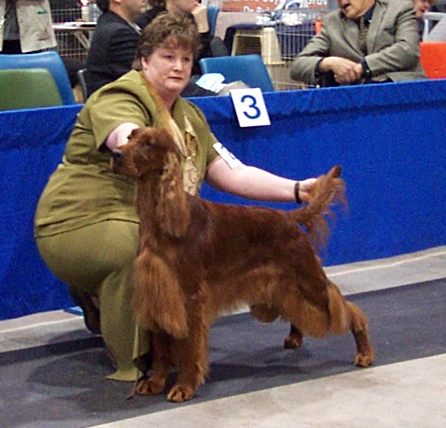 In Best In Show at Thetford Mines Winning Best in Show as well
🙂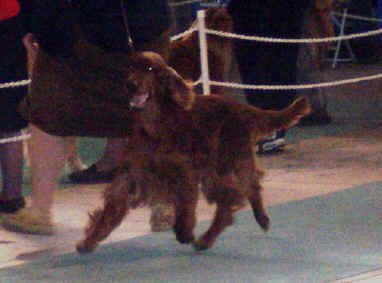 in Syracuse
 Melody is an amazing bitch!!    Her
first weekend out she took a major reserve.  She then went back to Canada
to finish her Canadian Championship, well she sure had fun, 2 Best in Sweeps
(only entered at 2 specialties) Best Puppy at the ISCC National, and Best Puppy
at the OVASA Specialty as well as winning 4 best puppy in shows.  She was
also RWB at the Irish Setter Club of Michigan specialty and placed second in her
class at the national.  Her crowning accomplishment as a youngster is winning the
award of Puppy of the Year 2001 in Canada, ALL BREEDS, in which she had to
compete against multiple BPIS winning dogs as well as group winners and Best In
Show winners.  She's going to go FAR!
Melody wowed the crowd at ISCLI 2004!  Winning
winners bitch for a five point major, obviously recovering nicely from her
ordeal.
Melody wins back to back BW for two four point majors at
ISCWNY and their supported entry.
Melody finishes her Am Championship less than one year
from returning to me, 6 months of recovery and 5 months of selective showing (8
shows).
AmCanCh Kimberlin O'Killea of O'Topo
BIS BISS Am Can Ch.
McCamon Impresario
Am Can Ch Captiva's Ride
With The Wind SN250531/01
Hazellhill Sugar Shack
BIS BISS Am Can Ch.
Quailfield Stylish Success
Am Ch. Quailfield Red
Hot Business
BIS Am Can Ch Captiva Wind Song at Arcata
Cucuhullain Eternal Prince
Am Ch Cucuhullain Good
Fortune
Am Can Ch Cucuhullain
Diamond Morning
Am Can Ch Captiva's
Donatella Versace
Hazellhill Sugar Shack
BIS BISS Am Can Ch.
Quailfield Stylish Success