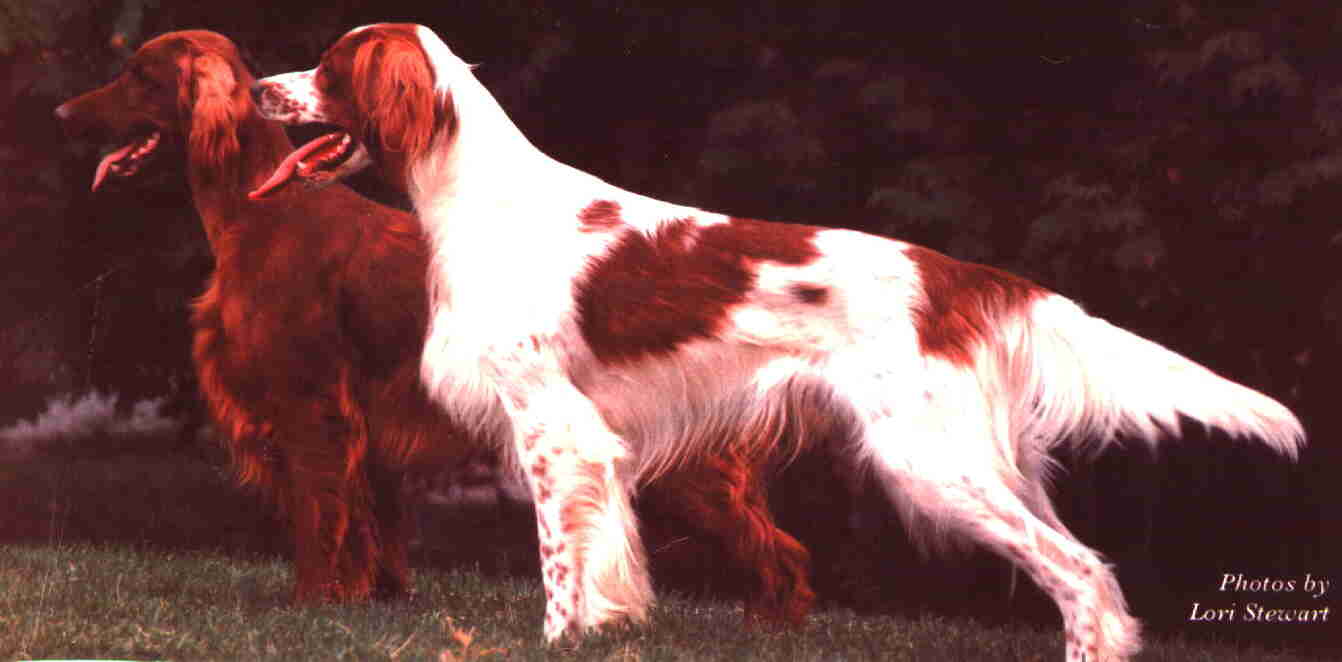 Above is Windy and Rafferty
I have been involved with purebred dogs from the day I was born. Both my parents were professional handlers and have now gone on to judge. They also bred Golden Retrievers and for a brief time Irish Setters. My love for the Irish came very early, I used to insist whatever Irish my father was campaigning that year sleep in my room. I also started showing them (and other breeds) in juniors at the age of 5.
When I was 16 I had saved enough to buy my first Irish, McCamon Man In Motion. Although he never turned out to be quite good enough to show he was my constant companion.
For my 21st birthday my mother purchased a puppy bitch from Patty Nagel and Joan Staby. This little bitch ended up being BIS BISS Am Can Ch Quailfield Stylish Success and my foundation bitch. Always owner handled, Windy was #2 Irish, #8 Sporting Dog in Canada for 1995 and #1 Irish, # 3 Sporting Dog and #10 All Breeds in Canada for 1997. Her show record speaks for her quality but where she has truly excelled is in the whelping box. This enabled me to win the Irish Setter Breeder of the Year award in Canada in 1996 and 1997!!
Windy's first litter sired by BIS BISS Am Can Ch McCamon Impressario resulted in 3 Am Can Champions and 1 Can Champion. Most importantly this is when Rider (Am Can Ch Captiva's Ride With The Wind) was born. Rider proved himself both as a stud dog and a show dog. A multiple group winner with multiple Canadian and American Champions to his credit. As well he was #1 Irish, #8 Sporting Dog in Canada for 1998, and most importantly has been my best friend since the day he was born until the day he died.  He was called Rider the repair shop for what he could fix on bitches.
Windy's second litter sired by BISS Am Mex Ch Sunshine's First-Rate produced Am Can Ch Captiva's Wishes In The
Wind. Michelle was Best of Winners at the 1998 ISCA National and was an exceptional example of the breed.
Windy's last litter by Am Ch Cuchuhullian Good Fortune produced so many excellent dogs.   This is the litter
that completed her requirements for her ROM. With numerous class wins, 3 finished in the US, a group winner, 2 more pointed, 2 puppy groups, 1 Best in Sweeps (Am Ch Captiva's Donatella Versace), and 1 Best op in Sweeps, and a BOB from the classes over specials, and a group win from the classes for MBIS MBISS Am Can GCh Captiva's Tommy Hilfiger.
All this was in very limited showing as I was busy moving to North Carolina.
Moved back from North Carolina and built a new home.  In 2001, Can Ch Captiva Wind Song at Arcata won puppy of the year ALL BREEDS.   In 2002 BIS BISS Am Can Ch Captiva's Tommy Hilfiger made #3 Dog ALL BREEDS, #1 Sporting Dog, he accumulated over 100 group firsts and 19 Best In Shows.  In 2002 Am Can Ch Captiva McDerry Bellagio was born.  Finishing his Can Ch at the National going BOW, while his sire Tommy came out of retirement to win BOB and his grandsire Rider really came out of retirement and won VD and Best Veteran….this was the last flying trip I ever did as Rider did not like it and after 10 years of perhaps spoiling him so much by always having him with me would have been very unfair to change it that late in his life.
In 2005 with the addition of Dark Auburn's Peter Pan at Captiva, I  incorporated Canadian American English Australian and Swedish lines into my breeding program.  The best from all around the globe!
In 2007 Robert was born his sire is Am Ch Evergreen Design of Choice, bred and owned by Mary Merlo.  Robert is a promising young dog that I have high hopes for in and out of the ring.  LOL I had to leave that last line in….because hind site is everything and my Umberto Roberto Bambino Taylor  is truly one of a kind.  He more than passed my expectations in the ring and the whelping box……on top of being such a tremendous ….or should I say most magnificent dog 🙂 All that know Robert can agree he's special 🙂 2010 He was the number 1 Sporting dog and Number 5 of all breeds all breeder owner handled, in 2017 at over 10 years of age won the veteran dog class at the American National.  He has produced a number of excellent puppies that have gone on to many titles in agility, conformation, and obedience.  Has sired a number of specialty winners and I see his influence.
Sorry, did not update a lot here but have had many Captiva that had huge wins and am very proud of each and every one of them.  Numerous times top Irish setter in Canada….and specialty wins ….but more importantly some great companion dogs.
2017 Johnny aka Captiva Chamberlayne MRBIGSTUFF was born….. he seems promising as well,  Johnny and Will (his co-owner) hit the road in 2021 and finished his championship undefeated in the classes, with multiple group wins in Canada and Breed wins in the US only being show a handful of times.  In 2022 Johnny and Will make a breeders dream come true by winning Best of Breed at the Irish Setter Club of America.  Johnny finished 2022 being the number 2 Sporting Dog and Number 8 dog of All Breeds in Canada and also in the USA was number 14 Irish Setter All Breed and number 6 Irish Setter Breed points.
In 2021 William Alexander joined Captiva!  link to the Show Scene article here.
I have had the pleasure of breeding 19 Best In Show Winners, the first 3 Canadian Grand Champions as well as the first Am Can Grand Champion. Now that titles have changed still have the first 3 Grand Champion Excellent in Canada and numerous more Grand Champions.  I have not kept an accurate record because numbers do not mean as much to me as some; but have bred well over 200 champions but more importantly, excellent health, temperament and wonderful additions to families.
Although I have been primarily conformation oriented I do realize the majority of people are looking for a good quality companion.  I do not insist my puppies be shown or bred.  I have copies of my contracts online as well as a puppy questionnaire to help determine if one of my dogs would be right for you and if you are right for one of them.