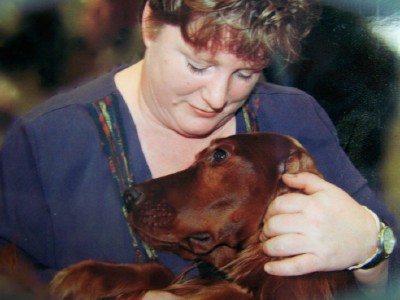 photo taken by the Murray Family
Dec 6 – Sparkle goes WB/BW in Boston for a 3 point major
Dec 7 – Sparkle goes WB in Boston
Dec 11 on drive home from Boston cried and became restless,
vomited once gelatin pellet with powdery center.  Took her in to the vets
as soon as I got home…..depressed, normal TPR, delayed CRT (3sec)….rads
taken – nothing definitive….started her on IV, Gave hydromorphone and oral
barium
Dec 12-returned to vet for 14hr post barium xray – barium not
moving well, still depressed….exploratory performed – peritonitis and a
perforated ulcer at pylorus – repaired put on baytril, amoxil, metoclopramide,
omepraxole, sulcrate, developed thick, pink mucoid nasal discharge post op
first 5-6 days frequent vomiting – with blood
Dec 18 blood drawn for CBC and profile – leucocytosis and
electrolyte abnormalities, eventually seemed to settle down and was improving
eating solid food (chicken and rice, beef and rice) until Dec 23 – then had to
start giving smaller and smaller pieced until eventually liquid
Dec 27 – back to vets for difficulty swallowing- very
exaggerated and painful….Palp—large, bilat masses in throat-FNA-normal
submandibular salivary glands —-barium swallow- out pocketing in esophagus
present, pooling of barium in upper esophagus
Jan 5- endoscopy – esophagitis and esophageal stricture
"The proximal esophagus presented a moderate to sever
degree of inflammation with sloughing of the mucosa.  Also, the esophagus
at the thoracic inlet presented a marked degree of stricture.  In fact,
the lumen of the esophagus appeared to measure 3-4mm and the gastro scope
could not be passed beyond this point.   The nasopharynx presented a
mild degree of diffuse inflammation"
Jan 9 – Bouginage was performed by Dr. Mason at VEC.
This is the worst case he has ever seen.  Sparkle actually has 4 strictures
with varying degrees of length and scaring.  Will have to repeat.  She
will never be normal again.  Feels that this is too severe for regurging on
the table and what ever caustic agent that caused the stomach ulcer most likely
caused the damage to the esophagus. 
Jan 14 – Sparkle goes RWB at ISCNE – she looks great and we
had to do a road trip to see if we can manage the feedings on the road.
Jan 24 – Another bouginage – 2 strictures one much better the
other still quite long.  Hopefully just one more visit, possibly
two…..the most we can hope to open the esophagus is 9mm which is 0.35″.
Sparkle will have to have a liquid diet for the rest of her life.
Feb – another bouginage – all is open as much as possible
April – Sparkle had some difficult times off and on.  On
the way back from the Florida National she must have eaten something that either
lodged in her throat or irritated it so that it closed.  Without being able
to even swallow water and the emotional stress and strain the past 5 months I
felt it no longer fair to Sparkle to continue.  She had a wonderful life
and as much as it ripped my heart apart on May 2nd I decided to end her battle
before she no long had quality of life.  I will never know if I did the
right thing but I did what I felt was best for her.
The above is a more of a medical time line for Sparkle.
What is not mentioned are the sleepless days and nights when she came home on
the pump.  Or trying to spoon feed her for hours on end.  The constant
trips back and forth to the vet….thinking she's better then realizing there
was something much more wrong with her.  
If Sparkle did have such a will to live none of this would
have been possible. DO NOT leave your dogs unattended at a show.  I
hate to think someone did this intentionally but my vets are convinced……
Everyone who's met her knows Sparkle is Special
🙂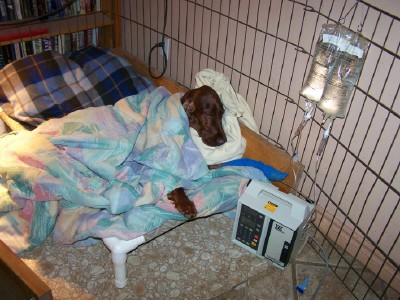 Some day I'll wish upon a star
And wake up where the clouds are far behind me
Where troubles melt like lemon drops
Away above the chimney tops
That's where you'll find me
Till we meet again Sparks