many more on facebook …just search for Captiva Kennels Irish setter
Just a few of the letters from our puppy buyers:
She has such a sweet temperament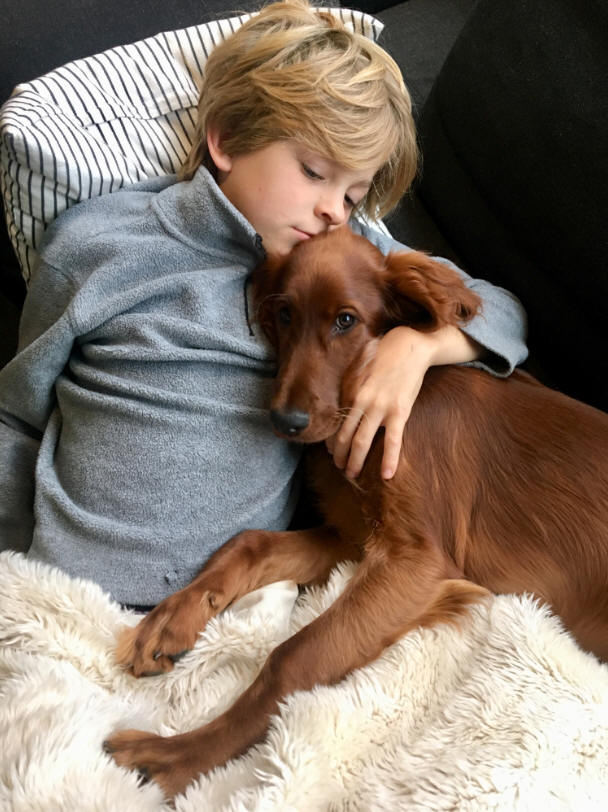 ---

A wonderful puppy visit
and then brought home our precious Scarlett. Happy, potty trained and sweetest
disposition! Not to mention beautiful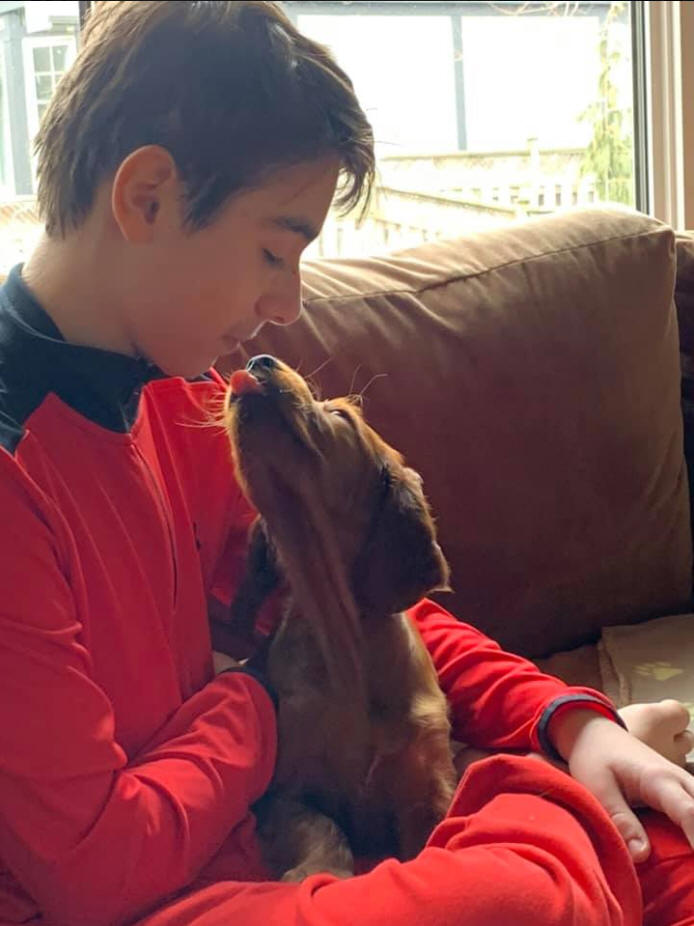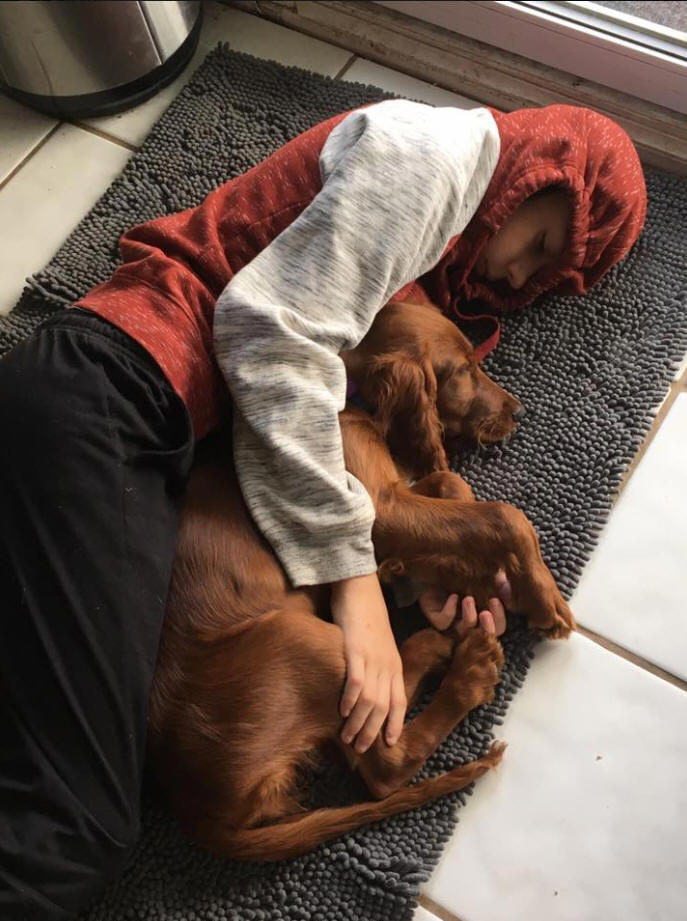 ---

I bought my second setter from you in early 2008, Cooper. I just thought I would
let you know he passed away peacefully on March 25th, 2019. It was a sad day,
what a great dog he was. He just loved my kids/grandkids and I have attached a
photo of him and my Grand Daughter. Thank you for supplying me with another
fantastic dog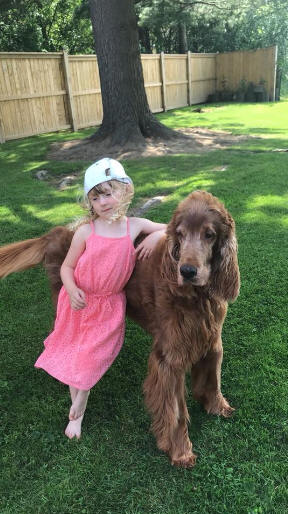 ---
It was so very nice meeting you Saturday. I can't say enough about Maggie. She
had 2 accidents in the house and it was really my fault, not paying attention.
My husband and I were very impressed with the condition of your kennel.
Everything is so neat and clean and your dogs are so well behaved. You have
really found your calling. We were very comfortable at your place and thought
everyone is so nice.
Needless to say I will keep in touch with you. Tomorrow Magee has an
appointment with my vet. She is such a great puppy. I am so happy we took the
trip to see you and your dogs. What a great life you must have! Loved all your
dogs!

Thank you,

Pat
---
Hi Jill,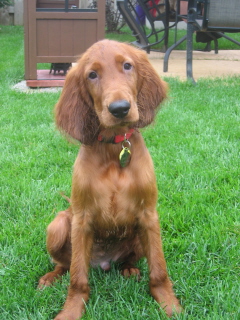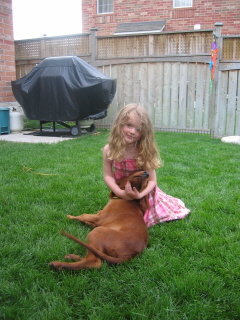 I just thought I'd drop you a quick email to let you know how McCully is
doing. He is amazing!!!!!! I've attached a few picture for you. He starts
puppy school in a few weeks and swam for the first time last weekend at
the cottage. He's a natural.
The other day I was walking him outside our building and and someone
shouted from their car, "$1000.00 for McCully, OK $10,000 for McCully!"
He's famous around here…..
Thanks you again for the best puppy ever (I'm sure you hear that all the
time lol)
Paul
---
Well I am so sorry I did not get a chance to sit and talk with you again.
I really do want to thank you so much for Rosie.  She is the most loving
(spoiled) setter I have ever had.  Not to mention the most gorgeous!!!!!!
But seriously, what do you think of her? All she needs is one more major
and she will be finished!!!!!!!  I  am so grateful that you gave me
Jeff and Becky's names to handle her.  They really make her look
fantastic when she moves around that ring. I still don't really know what I am
supposed to see when I look at the setters around.  They all look so
beautiful.  I am starting to see SOME things that don't look right or
that look really nice.  I wish I could sit with you at a show and pick
your brain.
The people from the ISCO are really helpful.  I sat with Sharon Riley in
New York on Sunday and she helped me some things I didn't notice before.
I am a slow learner but I am really enjoying myself.  Hey I even made it
to the show on Sunday and I only got lost once!!!  I am learning!!
Well again I just want to say THANK YOU    THANK YOU
THANK YOU
Hope to see you again sometime at a show.
Kathy
---
I know that my
husband lets you know how the "girls" on doing every once in a
while, but I just wanted to take a moment and say THANK YOU so much for
allowing both of them to join our family.  They are both terrific dogs
and we are so happy to have them here.  Michelle really seems to like
having another dog around, and Donnatella has fit in well.  Although
Michael has had Irish Setters his whole life, I had never had a dog before and
I was sure I would enjoy a dog–little did I know that they would capture my
heart right away.  Again I just wanted to let you know that they are both
doing well.  They are very special and we are fortunate to have them as
part of our family.  Thank you so much!!!!!
---
Hi Jill and Kerilyn:
Phoenix had a good summer chasing chipmunks in the wood pile and surverying
her domain from a shady spot in her yard, but she does prefer the cooler weather
when she can run with her ball.  She loves all of her toys but still
carries her purple polkadot bone when she feels unsure about something, or has
to poop really bad.  I had minor surgery a month ago and she stuck to me
like glue, falling asleep on the bed next to me with a toy in her mouth. Funny
how  setters know when you don't feel well, that all isn't right and
they just want to be close .  The dog grooming has done really well. Bob
wants me out of the house because of the hair so we ordered  lumber today
to build a shop for the business.  Of course Phoenix will have a perch in
her new window so she can keep an eye on the horses and chipmunks and
neighbouring  cats that wander through.  She is really good to
socialize new puppies that come for their first few grooms.  She lays on
the floor or engages them in play.  She's so good!.  It's a warm day
so we are going to take some time to chase chipmunks for a while before we start
grooming.  Take care and I'll keep you posted on the wonderful Phoenix! Sue
Bell
---
Hi Jill,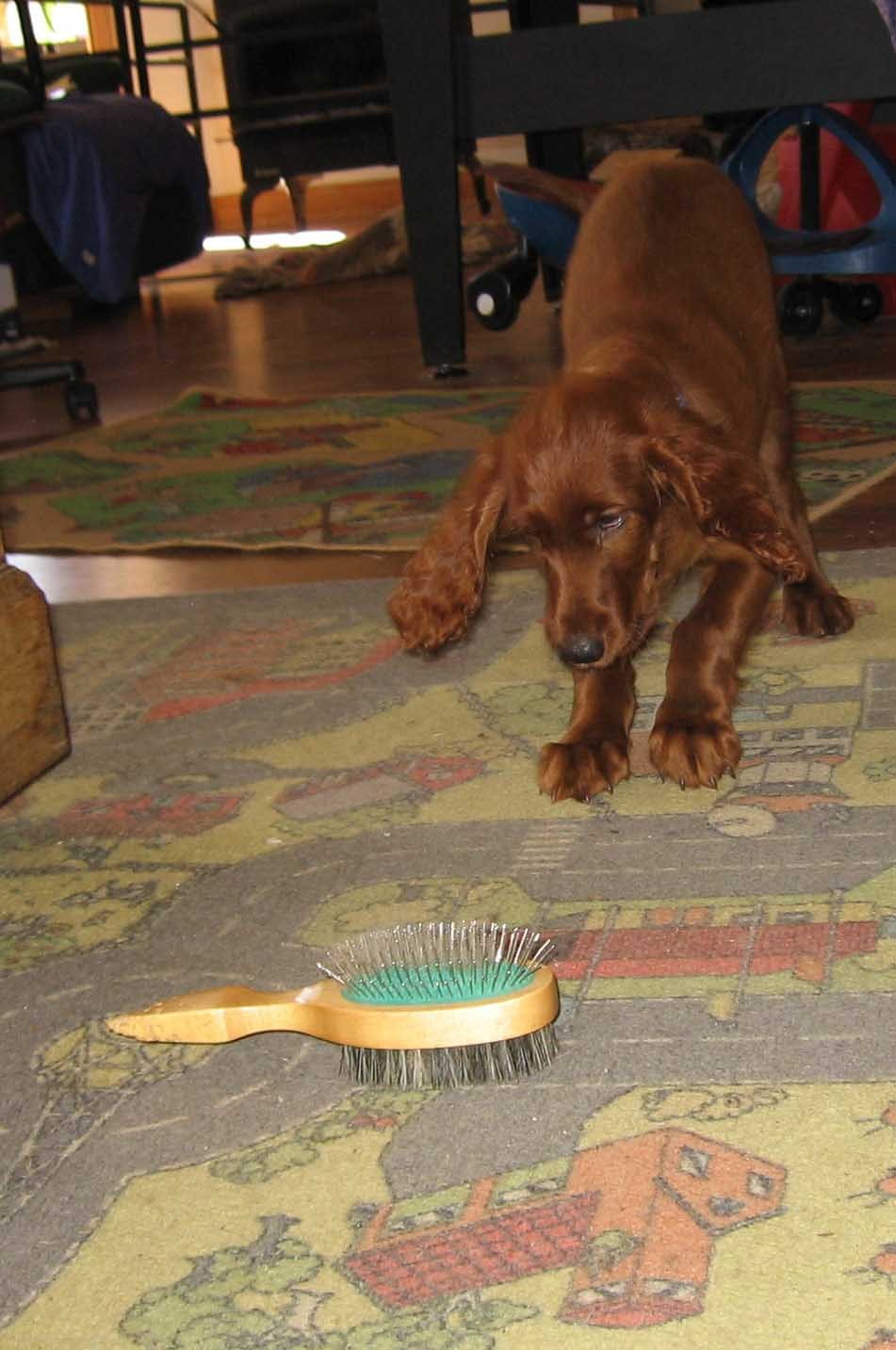 It's just over 3 weeks since we came for Puppy #5 (I think that's her
number).  She's a wonderful puppy.  She is, of course, still house
training
and tends to chew on everything,  but…she is very smart and good
natured.  She learned her name quickly, can sit reliably, usually comes
when called, and accepted her collar with little fuss.  The kids love
running with her (all go at the same speed at the moment) and following a
ball.  Fetch is not yet in her vocabulary, so kids and puppy all chase the
ball.  She travels easily in the car (the long journey home gave her a good
start, and a taste for Swiss Chalet chicken).
We've not been good about mythical names for her.  But we can tell you she
is named Jessminda (the heroine in "Bend it Like Beckham", since the
kids
love soccer).  Jess for short.  So please feel free to give her
whatever
name you choose for her registration papers.
Thank you very much for a wonderful puppy who shows every indication she
will be a great family pet for many years to come.  Her temperament is
fantastic.
Best wishes
Jo
---
As tomorrow is Brody's birthday, I thought I would
take a minute to let you know how he is doing.
He weighs 68 lbs now, and has a gorgeous coat. He
is an excellent pet, with a wonderful personality.
He is easy to train but loves to play and has
boundless energy.
Our kids have been keeping up their end of the
bargain, so Brody gets at least two walks every day; one from an adult in the
morning and one from a kid after school. Several of our neighbours have
commented to me on how beautifully he heels alongside the kids. (One of these
neighbours is an obedience instructor)
He also spends hours in our wooded backyard
hunting squirrels. Well, not actually hunting them, just pointing at them.
When he corners a squirrel he will stand perfectly still for a very long time,
until we go out and chase the squirrel away so Brody doesn't seize up!
He likes routine and will quickly adapt and learn
what's coming next. For example, when he sees us turning off lights and
locking doors at night, he disappears up the stairs and we find him tucked in
to his crate. When I am leaving for work in the morning he runs ahead of me
and gets in his doghouse for his morning nap.
I could go on and on, but I'm sure you've heard
all this before from us besotted Irish Setter owners. We are talking about
adding a second Irish to our family, but would like to wait until Brody is a
little older, so probably next spring would be a good time. We will be in
touch.
---
We just saw the Harrisburg Show.  Tommy was
gorgeous!!!!  I have been meaning to write you for a long time to tell
you how very happy we are with Agatha Christie, aka Captiva Storm Over Pretty
Marsh.  She is a delight.  She is very smart, beautiful of course,
and so much fun.  On our daily walks, she insists on walking with a
plastic bottle in her mouth.  We keep her supply in our umbrella stand so
she stops and waits for us to retrieve her bottle as we go out the door.
She is a traffic stopper!  We keep hearing that people have told others
about the beautiful dog that carries bottles on the Bartlett's Landing Road. 
We are eager to add another Irish to our family so
are now waiting to decide on the best timing.  You may be hearing from us
in the next year or so.
Thank you and Tommy for bringing so much joy into
our lives,
Marcia Dworak
After getting Jake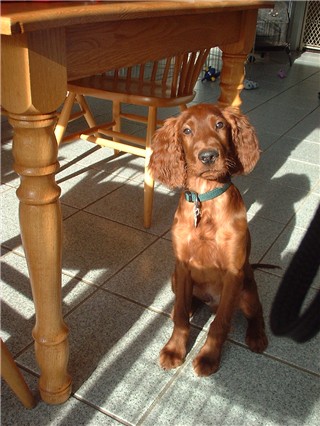 Dear Jill,
I took these photos this morning.  Jake is
growing so fast!  He is proving really easy to train.  One time
and he seems to get it!!  He and Agatha have a lot of fun together.
She has never had so much exercise.
Hope you are keeping warm.
---
Hi Jill!
I wanted to update you on our precious one.  She is the most remarkable
Irish Setter I've ever been in contact with.  She's quite a beauty and
my wish has come true – she has Rosemary's beautiful face!  Bryn loves
to retrieve and we all spend hours throwing balls for her to fetch!  Her
keen intelligence and warm and loving personality truly demonstrates the
Captiva name.  We are completely besotted with her and can't thank you
enough for matching us up!
Mike told me that you are going to Westminister this year with Tommy.
We wish you and all of your dogs the absolute best and hope that the
judges recognize  truly superior specimens and reward you richly.
Please post news to your site as soon as possible. "May the road rise up
to greet you!"
Love,
Carolann
---
For years I have tried to find an Irish who meets
the AKC standards on the personality of an Irish. I finally found one in my
Captiva bitch I have. She is so sweet, loving, and full of the Irish spirit. Not
only does she have the looks, a sound healthy bitch but a personality like no
other Irish I have ever met. You can see this girl's soul through her wonderful
eyes. So full of life. Thanks Jill for breeding such wonderful dogs.
Diane Brim
BAD IS Gang(Bridgid Abby Dottie) &the masked outlaws Skye, Jenny and Kellie
ES In Memory of Sparkles and Angelet
---
Phoenix is just wonderful.  She is really enjoying the snow in her yard
and she runs back and forth when the horses are in their paddock and soon they
are running too.  She had a good Christmas with lots of family visiting,
new toys, treats and a new bed.  The cats get along with her really well,
especially little Felicia.  We often find them together on the bed or on
the couch .  I have been learning dog grooming from a master groomer and
his wife.  These are the people who first spoke to Jill about Phoenix.
I'm going to groom dogs at home and I'm reallly looking forward to it.
Although we got to the advanced level in dog obedience,  showing her in
trials just was't my thing, but the dog grooming is.  The best part
is Phoenix is with me all the time, literally, she goes everywhere with us,
and we wouldn't have it any other way.   Without a scanner we can't
send photos and we don't have anything recent anyway, but I can tell you
Phoenix is very happy here and that we love her very much. I have to go.
She wants out.  She is carrying her purple polkadot bone in her mouth.
---
After a loooong trip home ( 1hr. 20 mins waiting at the bridge into the US, 1
hr. stuck in Chicago traffic) we are home safe and sound.  Elliott was a
great little traveler, cried for about 20 minutes when we started out, then
mostly slept on the floor at my feet or chewed his chewie.  No car
sickness, no accidents.  He fit right in as soon as we got home, not
intimidated in the least.  Many new discoveries already – cat litter is
tasty, it is fun to grab the dishtowel and run, there are many new toys in the
toybox, we have treats when we get up in the morning.  He is clearly a
Bellagio repeat – he stalked bugs in the sunroom as soon as he got in the
house.  Last night he kept wanting to lie down and snuggle with Charles,
who would tolerate it briefly and then get up and go somewhere else.  He
is a little shell-shocked but both he and Cayce have been fine with Elliott.
Gwen Sr. thought he was gorgeous when we stopped to pick up Cayce.  I
agree – I am so thrilled with him.  He's lovely and a sweetheart to boot!
Again, thanks for everything, especially Elliott!
---
Hey Jill,
I just though I would let you know that Tucker had his first class at puppy
school last night.  I know I am a little bias, but I think he was the best
puppy there!!!!!!  He actually did really well – the instructor actually
used him to show a couple of things that she wanted the other owners to try with
their puppies.  Josh was able to participate in the teaching of Tucker as
well.  I have almost an entire roll of film to take in so I will send you
some more pictures when I get them developed.  Thanks for everything.
Tucker is a great puppy with a terrific personality!!!!!  He fits into our
family perfect.
Chris
---
Jill,
Hello.  Just wanted to let you know that our female pup we are calling Tobi
from the Speedy Sam litter is working out wonderfully in our family.  She
is really bright and is catching on to her obedience training quickly.  We
have been going once a week for private lessons from our local dog training
guru.  We will start group puppy classes in June.  He has given Tobi
the big thumbs up and commented the first moment he saw her on her obvious intelligence
and good looks!  He has described Tobi as "a cut above" the other
Irish  he has worked with.  She seeks eye contact which makes training
her a joy.  Plus she likes treats and praise which helps keep her
motivated.  She has learned to pee (and poop) on command outside.  Now,
if I could have the same cooperation teaching her not to pee inside!
In good time she will learn that too.
Tobi loves her walks in the woods and fields we visit daily and in true setter
fashion loves to run up ahead and always checks in to make sure I am coming
along right behind.  She has adapted well to crate training and sleeps in
her crate beside us at night.  We have a second crate in our kitchen that
generally has the door open and she prefers to have her long naps in there.
She loves our two boys, especially 9 year old Luke because he is the one who
plays with her in our backyard.
Most of all she loves our Border collie X Buddy because he is the one who lets
her chew on him, mostly with impunity!
I think you are breeding wonderful dogs Jill.  I knew I was making the
right choice to pick you as a breeder because Setters are your obvious passion
and I thought I could not go wrong choosing a pup from a person who has devoted
their life to the improvement and love of the dogs and the breed.
Thanks again Jill.
Jennifer
---
Hi Jill,
Just a note to let you know that Annie is doing really well. She's
almost 11 months old and she's bright, happy, healthy, extremely
beautiful, and lots of fun.
She loves other dogs, especially her collie sister, Bonnie, and she's
great with our cats. She adores our cottage, long hikes, and boat
rides. We're hoping to get her swimming this summer. Last summer she
paddled in shallow water but wasn't ready to fully commit.
Her intelligence is a little disconcerting sometimes. She's learned how
to open the refrigerator after months of studying the problem of the
door's seal. She often noses and paws at the door, very gently and
quietly, so it never occurred to me that she'd get it open. Then, when I
was in the kitchen one day, I watched her to do the nose 'n' paw routine
to see what would happen if she worked at it long enough. When the door
finally opened, she shoved her paw behind it so it couldn't close again.
Then her looked at me with her tail wagging. She's absolutely
fascinating.
She loves to hang out in the bathroom, and she's particularly interested
in the sink – the taps, the drain, the water. She sits back and studies
the whole operation. A few days ago, I heard water running in the
bathroom and, yes, she'd turned on the cold water tap. It's a lever-type
tap so I guess she kept pulling it forward with her paw until the water
came out. I found her with her paws on the counter, happily drinking.
She's done so many things that are truly amazing. She's over-the-top
smart. Course, I'm concerned that she'll empty the frig and flood the
house when we're not looking, so we have an extensive system of baby
gates, and she goes into her crate when we're away from home. I fear she
uses crate-time to channel Albert Einstein.
Does this sound like a typical Irish, Jill? I know they're
bright but she's not even one year old yet. Will she be cooking gourmet
meals and re-wiring the house by the time she's two?
Thanks again for breeding such fabulous dogs. Annie is absolutely
amazing.